//php print $user_picture; ?>

By Administration

Wednesday, Apr 8th, 2020
Like? Then by all means share
0 comments
Balance all the sweet treats over Easter with a hearty and warming homemade soup! One of our favourites is our Leek, Potato and Bacon Soup, which is perfect for the whole family. This recipe makes 8 portions and lasts a few days in the fridge or can be frozen, making it a great midweek dinner option.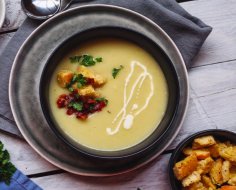 Ingredients:
75g butter
Drizzle of olive oil
1kg leeks, sliced
4 roasted garlic cloves
1kg potato, finely sliced
1 sprig of thyme (leaves only)
1 1/4 litres of chicken stock
1/2 cup of spinach
1/4 cup milk (250ml)
1/4 cup cream (250ml)
90g cooked bacon finely diced
Salt & pepper to seaso
Method:
In a large pot melt butter and add olive oil then add in your leeks and cook until soft about 3-5min.
Add in the roasted garlic and potato and cook at low heat for 3-5min, add thyme leaves and stock bring to boil.
Continue cooking on medium heat until potato is cooked approx15 min.
Remove pot from heat, add the spinach and blend while adding the milk and cream until soup is smooth.
Once blended stir in the bacon and season to taste.
We recommend garnishing the soup with crunchy croutons, a drizzle of cream, fresh parsley and bacon bits.
How to make roasted garlic
Roasting the garlic before adding to the soup intensifies the flavour to add a richness to your soups. Best of all it is so easy and can also be used in other recipes. All you need is the garlic cloves and a generous drizzle of olive oil, salt and some aluminium foil. We recommend doing a few batches you can then store in the fridge for as and when needed.
Method:
Place garlic cloves in the middle of a large portion of aluminium foil.
Drizzle olive oil over the garlic and sprinkle a little salt. Close the aluminium foil to create a small ball.
Preheat the oven to 175c. Place the aluminium foil wrapped garlic cloves on a baking sheet. Roast the garlic in the oven for about 50-60 minutes.
You can then store in an airtight container in the fridge for up to 10 days.