//php print $user_picture; ?>

By Administration

Tuesday, Apr 21st, 2020
Like? Then by all means share
0 comments
These are the cutest little muffins around and combine muffins and doughnuts - what's not to like! They make a perfect weekend treat and are great for something a little different.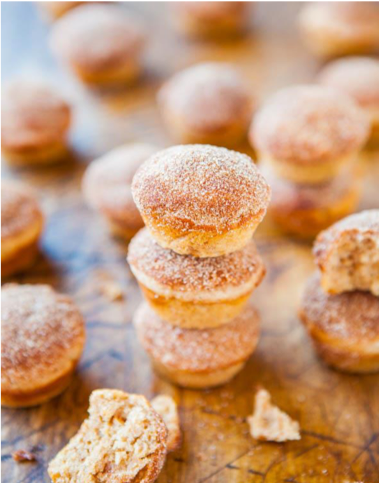 Ingredients:
· 1 3⁄4 cups plain flour
· 1 1⁄2 tsp baking powder
· 1⁄2 tsp salt
· 1 tsp ground nutmeg
· 1 tsp ground cinnamon
· 1⁄4 cup rice bran or canola oil
· 3⁄4 cup caster sugar
· 1 egg
· 1⁄2 cup milk
· 100g butter
· 1/3 cup caster sugar
· 1 Tbsp ground cinnamon
· Strawberry jam
· Dark Chocolate Ganache
Method:
1. Preheat your oven to 180c and grease 2 x 12 mini muffin tins.
2. In a medium bowl, whisk together the flour, baking powder, salt, nutmeg & cinnamon.
3. In another bowl, whisk together the oil, sugar, egg and milk.
4. Carefully fold the wet ingredients into the dry ingredients and mix until just combined.
5. Three- quarter fill the muffin tins with batter. We'd recommend using a piping bag for ease. Then bake for 10 mins or until the muffins spring back when lightly touched, and a skewer inserted comes out clean.
6. While the muffins are cooking you can prepare the topping by melting the butter in a small bowl and setting aside.
7. On a plate combine the sugar and cinnamon for coating the muffins.
8.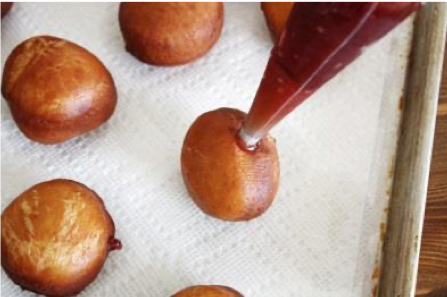 When the muffins are cooked, turn them out on to a wire rack and whilst still warm pipe either strawberry jam or chocolate ganache inside by inserting the piping nozzle into the middle of each muffin. Be careful to not over fill them.
9. Once filled dip the top of each muffin into the melted butter then roll in the sugar and cinnamon.
This recipe will make 24 mini muffins and trust us they won't very last long as are delicious.