//php print $user_picture; ?>

By Administration

Friday, Dec 15th, 2017
Like? Then by all means share
0 comments
We can't quite believe Christmas is just around the corner! If you are suddenly panicking that you need a fabulous gift idea for loved ones or to impress work colleagues at the office. Why not try making your own biscuits with our easy gingerbread recipe! You can make these in Christmas shapes and package in a lovely box or tin for the perfect gift.
Best of all you can even get the kids to help and give to the grandparents, taking the pressure off last minute gift purchases!
This recipe is for around 24 large biscuits.
Ingredients:
· 5 cups plain flour – scoop and level off the cup measurement
· 5 x tsp ground ginger
· 1 tblsp ground cinnamon
· 1 tsp ground nutmeg
· ½ tsp ground cloves
· 1 tsp salt
· ½ tsp baking soda
· 1 cup soft butter
· 2/3 cup firmly packed soft brown sugar
· 2 x eggs
· 2/3 cup golden syrup
Icing
450g icing sugar 2 x egg whites plus anything else to decorate such as chocolate buttons or lollies.
Method:
(we'd recommend using an electric mixer for ease ).
1. In a large bowl, combine the flour, spices, salt and baking soda and stir well to mix.
2. In a separate bowl beat butter and sugar together for around 1-2 mins. Then add the eggs one at a time, beating smooth after each addition. Helpful hint – remember to scrape down the sides of the bowl.
3. Lower the speed and mix in half the amount of dry ingredients and syrup. Scrape down the sides and then add the remaining flour until a dough has formed. Cut the dough in half and wrap in cling film and store in chiller for 30mins and up to 3 days. (Great if you want to make ahead of time and then cook just before needed).
4. When ready to make cookies, roll the dough between 2 sheets of baking paper with a rolling pin making sure the dough is even and around 1cm thick.
5. Re roll the off cuts until there is no dough left (there should be no wastage).
6. Cut out shapes and place on lined baking tray and then bake at 180 for 10-15mins. Be careful not to over bake or they will be very dry. Slide onto wire rack to cool.
7. To make the icing beat icing sugar and egg white together on a low speed, add water depending on consistency
8. If you want different coloured icings then add a drop of food colouring before pouring into piping bags.
9. Ice the cookies and leave to set before packaging in containers.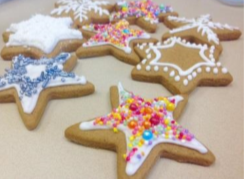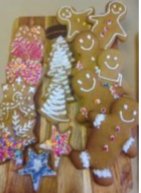 We hope you enjoy making this yummy gingerbread recipe and you and your loved ones have a wonderful festive period.
Best wishes and Merry Christmas,
Columbus Coffee