//php print $user_picture; ?>

By Administration

Wednesday, Apr 8th, 2020
Like? Then by all means share
0 comments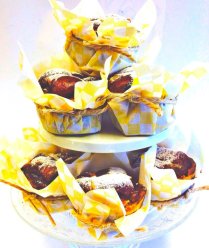 For a truly decadent Easter treat, try our Hot Cross Bun Puddings. These are a combination of a bread and butter pudding and a chocolate custard rolled into one, all with the added bonus of sultanas and spices!
Ingredients:
1/2 cup ground almonds
125g dark chocolate chopped
6 hot cross buns
7 eggs
1 1/2 x cups milk
1 cup cream
1 tsp vanilla
3/4 cup soft brown sugar
1⁄4 tsp cinnamon
1⁄4 tsp nutmeg
Method:
Combine chopped chocolate with ground almonds so the chocolate is coated in the almonds and set to one side.
Mix the eggs, milk, cream, vanilla, soft brown sugar, cinnamon & nutmeg until sugar is dissolved.
Slice each bun into thirds horizontally, grease and line in a muffin tin making sure the baking paper is 3cm above the tin to allow for leakage and rising.
Layer with the bottom piece of bun first then sprinkle about a Tbsp of the chocolate mix, continue until you finish with the top bun with the cross.
Pour the custard mix over each pudding letting it soak in for around 10- 15 mins before baking at 150c for 20-30 mins or until custard is cooked.
Let cool for 20mins then remove from tins and dust with plenty of icing sugar.
Trust us it will be really hard to only eat one.