//php print $user_picture; ?>

By Administration

Tuesday, Apr 21st, 2020
Like? Then by all means share
0 comments
What is better than chocolate and coffee? These mouth-watering truffles will be a hit for all and also make a perfect gift for any birthdays or anniversaries after lockdown.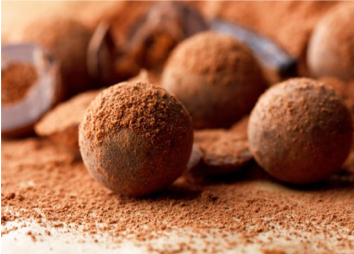 Ingredients:
· 2/3 cup cream
· 30ml espresso coffee
· 180g dark chocolate
· 2 tsp butter
· 180g dark chocolate for dipping
· 1⁄4 cup cocoa to dust or any nuts or coconut to garnish
Method:
1. Place the cream and coffee in a saucepan over a medium heat and bring to the boil, then remove from the heat and stir in the chocolate and butter until smooth.
2. Allow to set in the pan. We'd recommended overnight or until firm.
3. Once set melt the chocolate in a bowl over a pot of simmering water. Helpful hint - be careful that the bowl does not touch the water.
4. Once melted put to one side and allow to thicken a little (around 5 minutes).
5. Whilst the chocolate is thickening roll the truffles by scooping out teaspoonfuls of the truffle mixture and roll into balls.
6. Dip each ball into the melted chocolate using a fork and tap of any extra chocolate so there are no drips, then place onto a lined tray and allow the chocolate to firm slightly.
7. Before the chocolate sets, roll in cocoa powder or sprinkle with nuts or coconut.
8. Allow to set and place in an airtight container.
This recipe will make approx. 24 truffles and will last a few days when stored in in the fridge.