//php print $user_picture; ?>

By Administration

Thursday, Sep 29th, 2022
Like? Then by all means share
0 comments
Pizzas are a family favourite and these kids' friendly pizzas are a delicious treat using thin tortillas as the base. You can use corn tortillas instead for a gluten free version.
Place your tortilla on a tray, spread with pizza sauce with a 1cm crust around the pizza. From here, load up your base with toppings using our suggested flavours below, and then place them in the oven for approx 10 minutes. cut into 4 slices and serve.
We've included a Pizza Sauce recipe if you want to make your own, or you can use a store bought Pizza sauce if preferred.
Pizza Sauce
2 Tbsp olive oil
1 onion, finely diced
2 cloves garlic, minced
2 Tbsp thyme, chopped
1 bay leaf
2 tsp brown sugar
3 Tbsp tomato paste
2 x 400g cans chopped tomatoes
Salt & pepper
In a medium saucepan heat olive oil and sweat onion, garlic, thyme- and bay leaf until soft.
Add brown sugar and cook for a further 2 mins with a pinch of salt and pepper.
Add tomato paste and cook for 2mins, then add the tinned tomatoes and cook for 30 - 35 minutes or until the sauce has reduced and is thick enough to hold and not run off a pizza. for a smooth sauce blitz with a stick blender or leave it as is.
Cool and store in a container in the fridge. Keeps well for 1 week or store in the freezer.
Pizza Flavours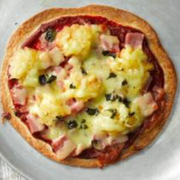 Hawaiian Pizza
2 tbsp pizza sauce
30g ham, diced
2 tbsp crushed pineapple, scattered
4 tbsp grated cheese
Optional – fresh thyme leaves
----------------------------------------------
Breakfast Pizza
2 tbsp pizza sauce
1 slice of streaky bacon – arranged in a circle of the pizza to contain the egg.
5 slices of sausage – ½ kransky
1 free range egg
2 tbsp grated cheese
Optional – fresh thyme leaves
----------------------------------------------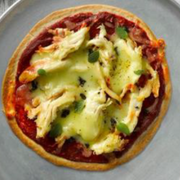 Smoked Chicken, Cranberry & Brie Pizza
2 tbsp pizza sauce
30g smoked chicken, finely diced
20g brie cheese, sliced
2 tbsp cranberry sauce, spooned on top of the pizza
----------------------------------------------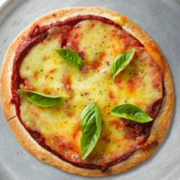 Margherita Pizza
2 tbsp pizza sauce
4 tbsp mozzarella cheese
5 whole basil leaves arranged on top of the pizza