//php print $user_picture; ?>

By Administration

Wednesday, Apr 8th, 2020
Like? Then by all means share
0 comments
With Anzac Day around the corner, we have a great Anzac Biscuit recipe to make at home. For an extra decadent treat, we find they are best dipped in chocolate.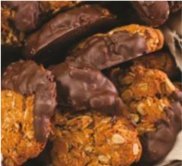 Ingredients:
1 cup plain flour
1 cup coconut thread
2/3 cup packed brown sugar
1 cup jumbo rolled oats
125g butter
2 tbsp golden syrup
1⁄2 tsp baking soda2 tbsp boiling water
200g dark chocolate for dipping
Method:
1. Line your baking trays with baking paper.
2. Place flour, coconut, sugar and oats into a mixing bowl and combine roughly.
3. Melt the butter and golden syrup in a saucepan over a medium heat. While this is melting, place the baking soda in a separate bowl, add boiling water and stir until fluffy. Then add into the melted butter mixture and remove from the heat.
4. Quickly pour the butter mix over the dry ingredients and stir to combine.
5. Using a tablespoon, roll spoonfuls of mix into balls and place on the lined tray 3cm apart.
Flatten slightly.
6. Bake for 15-20mins at 180c until golden brown.
7. Allow to cool and dip one side of the biscuit in melted chocolate.
8. Place back onto baking paper until set.
This recipe will make about 20 biscuits which will last for a few days, if they aren't all eaten on the day. Just make sure they are stored in an air tight container.