//php print $user_picture; ?>

By Alexia Santamaria

Friday, Jun 7th, 2013
Like? Then by all means share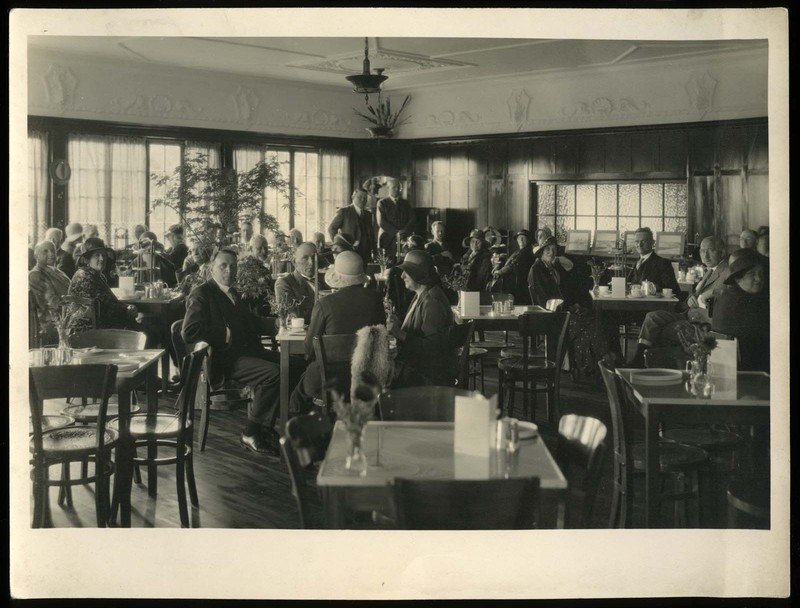 0 comments
It's the nature of our species to congregate – be it in a mud hut, a town square, a restaurant, a cafe or someone's home. We relish the company of others and sitting down over a drink and sharing stories is an integral part of being human. The format of this socialisation in New Zealand has changed dramatically over the years, and the journey from the sitting rooms of the mid 1800s to the cafe catch-ups of today is a truly fascinating one.
These days we take for granted regular trips to local cafes for a coffee, breakfast or lunch. Whether you're a stay-at-home parent looking for a change of scene from the house; a retiree; or a corporate high flyer, cafes have become places for anyone and everyone to meet. But it wasn't always so all-encompassing. In fact, previous to the 1880s, if you were a woman you probably had to have your cup of tea at someone's house as the very early versions of our modern cafes were not the place for a lady to be seen.
These early incarnations were often by the wharves in major cities, according to historian Edward Bennett "They had sawdust on the floor and were definitely men only domains. 'Oyster Saloons' were very popular, where men could get a cup of coffee, some oysters and perhaps a Cornish pastie. The only other place to get a coffee was from the importing warehouses. Merchants were bringing in tea, coffee, rice, flour and other goods and some of them would grind up beans, add water and sell them at the warehouse door!"
The blue collar male element of society was well catered for with oyster saloons, billiard salons and barber shops to congregate in, but the poor women – and anyone who didn't want to stand in sawdust – were out of luck until the later part of the 1800s when daytime restaurants started to appear. St Mungo's Cafe opened in 1871 in Auckland and although it was a formal dining space it had, according to the New Zealand Herald, "along one side a handsome and easy settee for those persons seeking light refreshment" in other words, a place to come and have a tea or coffee, not necessarily a whole meal.
"Around the same time, tearooms started opening up in major department stores to lure women in to spend money." says Bennett. "This phenomenon grew, and soon there were tearooms everywhere – not just in large shops – as places for women to have a cup of tea, perhaps some cake and definitely a good gossip."
Things carried on this way for some time, the men in their pubs and billiard salons and the ladies in their tearooms until the 1950s. Women's Liberation, the influx of American soldiers and the end of war saw both sexes meeting and drinking coffee together in 'cafes' - these places were often open late at night. "These were the days of the six o'clock swill," says Bennett "Cafes could serve 'special coffees' with alcohol in them so they provided a great place to drink when the pubs closed, or after going to a dance hall."
When the licensing laws changed in 1968 these night time cafes became somewhat redundant as people could now drink alcohol in restaurants and pubs. Gradually they moved from night time venues to daytime coffee lounges that many of us will remember so well from the seventies "Think formica tables, acrylic self-serve windows with filled rolls, cake and filter coffee." says Bennett. "A far cry from what cafes are today."
Which brings us to more modern times. Cafes meandered along this way till the late eighties and early nineties. One of the co-founders of Columbus Coffee – and arguably one of New Zealand's pioneers of the modern cafe scene – David Burton, remembers opening the first Columbus Coffee on High Street in Auckland with his other partners. "People had started coming back from overseas and were wanting something similar to what they had seen in Europe. The first few cafes were opening as people got a taste for true espresso rather than filter or percolator coffee." says Burton, who's still very much involved today as Columbus Coffee's Roast Master.
"We were pretty big news back then. The store was quite unlike anything New Zealand had seen, and the focus was really on coffee in every sense. Different beans from around the word, different brewing methods – this was all quite new territory for kiwis and it was very exciting." he adds. "I remember, we'd sit and wait at about 9.55am for the crazy rush that would ensue at ten. People were mad for coffee and couldn't get enough of it. And it just grew from there. The laws had changed and outdoor seating was now allowed. This was the start of the explosion of cafes we see today."
The store won awards and set the path for many of the cafes today. Eventually food became a focus too as the expectation of cafes changed. And of course now it's no longer enough to just have some cake to go with your coffee – a cafe is a place you can go to get a full meal. With more of us becoming Masterchefs at home with far more discerning palettes, the quality is much higher now too. Cafes are producing more sophisticated cuisine and adventurous flavours alongside the kiwi classics.
Columbus Coffee has trained chefs in all stores preparing food fresh using local and seasonal produce, and has now taken it one step further bringing in 'Local Favourites' which each cafe create themselves alongside the core Columbus favourites menu. These reflect the personality of the cafe and community and are often seasonal, responding to the public's desire to eat what's best at that time of year.
New Zealand enjoys one of the best cafe cultures in the world. An article in the UK's Guardian a couple of years ago said on visiting Auckland "..they take coffee seriously, with 140 roasters in New Zealand, many based in this city. Even if most Kiwis do not roast beans themselves, many buy them freshly ground to supply their own gleaming Italian machines."
New Zealand has more roasters per capita than anywhere in the world, and Wellington has more cafés per head than New York. After a long and interesting evolution, the cafe scene in New Zealand right here and right now has to be one of the best places to kick back and share a world class coffee with a friend. "We're delighted to have played a role in that evolution. And with the exciting changes we've recently made to our stores and menus we're looking forward to a new chapter in our own story." says Burton.