//php print $user_picture; ?>

By Administration

Thursday, Nov 8th, 2018
Like? Then by all means share
0 comments
Looking for a homemade gift idea to spoil a loved one over the festive period? Why not bake them a treat with our delicious Peanut Butter Cookies. Best of all you can get the kids to help to make special gifts for grandparents, teachers or neighbours.
What you'll need:
• 3 cups flour
• 2 tsp baking powder
• 1 tsp salt
• 1 cup sugar
• 1 cup packed dark brown sugar
• 170g unsalted butter, softened
• 2 eggs
• 1 cup peanut butter
• 2 tsp. vanilla extract
Method: Whisk together flour, baking powder and salt in a bowl and set aside. Beat sugars and butter together in a bowl with a hand mixer until pale and fluffy (approx. 3 minutes). Add the eggs one at a time, beating well after each, until smooth. Add peanut butter and vanilla and beat until smooth. Add flour mixture, then beat until combined. Using a tablespoon, portion out dough and roll into balls; place 5cm apart on grease proof paper baking sheets. Press the cookie balls down with a fork in a crosshatch pattern to flatten. Bake at 150C until golden brown, about 12 minutes. Once baked allow to cool. You can then get creative and decorate the cookies with icing sugar or dip in chocolate. We'd then suggest visiting your local $2 shop or an op shop to buy a tin or box to display the cookies in.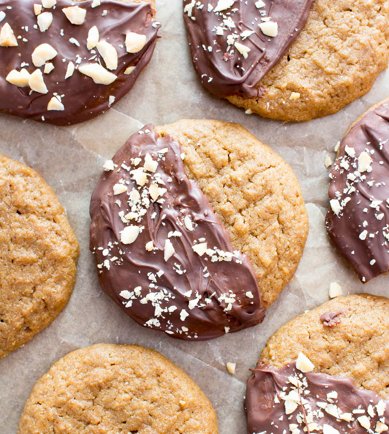 We hope you enjoy this festive recipe share.